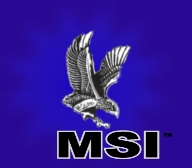 P.O. Box 107 ~ 12-457 Road P3, Napoleon, Ohio 43545
Telephone: (419) 599-7010 ~ Fax: (419) 599-7020
MSI Product Application Guide
MSI products are designed to burnish a solid film boundary lubricant into the asperities of metals. This process reduces temperatures, amperage, and wear, and allows machines to perform and "live well" in the presence of water contaminated lubrication systems. Metal fatigue is also reduced by controlling the incidence of hydrogen embrittlement.
The following guidelines are for general use. MSI metal treatments should be applied with machines at operating temperature and run for a minimum of one hour before shut down. Special applications can be engineered to your specific machine operating conditions:
Application
MSI Part Number
Description

Compressors

08331

(1) reciprocating - add to crankcase using 1:7 ratio, 1:10 for upper cylinder lubricant for 250 hours running time.

(2) rotary or screw - add to crankcase using 1:15 ratio for full reservoir capacity.

Hydraulics & Lube Oils

08321 Oil-Base

08322 Water-Base

(1) use in ratio of 1:50 for system capacity - oil or water base.

(2) use in ratio of 1:25 for recirculating lube oil systems.

High Speed Bearings

08351

Spindle bearings, gears, etc. Use in ratio of 1:10 for reservoir capacity of SAE 50 wt. viscosity and lower.

Engines (Macro-Lon)

08341

Use to treat internal combustion engines only. Use contents in ratio of 16 oz. per 100 cubic inch displacement.

Gears

08421

Use in ratio of 1:40 for reservoir capacity of SAE 80 wt. viscosity oil and up.

HTG Compound (High Temp. Grease)

08531

Use for initial packing of non-regreasable high-speed bearings and gears. (above 3000 rpm)

NZFG (no-zinc food grade grease)

09331

Use as a full-time H-1 category grease for food machinery applications.

L/RG-500 (lithium/resin grease)

08731

Use as a full-time grease for all high-load, low speed* bearings and greasable gears. * (less than 3000 RPM)

Machining Coolant Additive

08641 Water-Base

08651 Oil-Base

Use in ratio of 1:50 to 1:100 based on degree of machinability - normal operating life 1000 hours.

Aero-Spray

08371

For roller chains, pneumatics, slides, etc.

Auto-Trans

08631

Use in ratio of 1:40 where automatic transmission fluid is used for lubricant/coolant.

Molds (release agent)

08721

Clean, heat to 120oF then surface coat by spray, brush, or immersion. Air dry, polish with cheese cloth, and repeat procedure with the next cleaning.
For information on becoming a distributor or if you would like to try MSIís products, call MSI at (419) 599-7010 or by E-mail at MSI@Bright.net.
---
Macro Specialty Industries, Inc.
Copyright © 2000 Macro Specialty Industries, Inc. All rights reserved.
Revised: February 16, 2004